As a child, I loved our Christmas holidays. Every year we would burrow into our VW Rabbit and head down to California for a two-week skiing holiday. We would share a house with our extended family and spend the two weeks skiing, hiking, travelling to natural hot springs, and visiting with family. On the way home (if we were visiting our family in greater Los Angeles), we would sometimes swing through Death Valley .
Death Valley is the lowest point (over 30 metres BELOW sea level) in North America and a desert.
The surrounding mountains would be cloaked with snow and there was the odd winter that featured snow on the desert floor.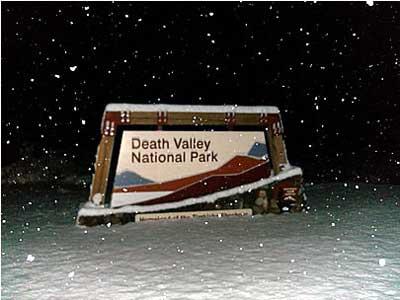 Driving through, we could see the tracks of the borax wagon trains and see where seasonal rivers (flash floods) had carved paths.
Most years we drove through, we saw no flourishing plant life. There may have been the odd Joshua tree or other cacti, flowers withered on their stems, or the frequent bleached logs.
One year we decided to visit our extended family in Los Angeles in the summer. My dad rarely had time off in the summer, but one year we did. My dad wanted to see Death Valley in the summer, so we drove through and saw the same valleys covered in wildflowers. As the winter snow melted (in the valley and from the surrounding mountains) the flowers had been provided with sufficient moisture to germinate and flower (ever so briefly). The appearance changed so dramatically, it was hard to believe that we drove through the same valley. It was amazing to see what a bit of water could do.
All of this is a lead-in to the verses I just recently re-read in Isaiah. Isaiah 43:1b-3a, 19 says, "Fear not, for I have redeemed you; I have called you by your  name; You are Mine. 2 When you pass through the waters, I will be with you; And through the rivers, they shall not overflow you. When you walk through the fire, you shall not be burned, Nor shall the flame scorch you. 3 For I am the Lord your God, The Holy One of Israel, your Savior; 19 Behold, I will do a new thing, Now it shall spring forth; Shall you not know it? I will even make a road in the wilderness and rivers in the desert.
We have such amazing promises in these few verses. First, God has redeemed us. He found us where we were but did not leave us there. He is making something wonderful in and through us. Second, He shows us how precious we are to Him by announcing that we are His. (Everyone else, hands off!) Third, God promises that He will be with us when we pass through the waters and walk through the flames (trials and tribulations). Finally, we have His promise that He will make roads in the wilderness and call forth rivers in the desert.
Sometimes we feel like we are in the desert: nothing seems to be flourishing and the little life that is there seems to be all prickles. And yet….
When the waters come, there is life in abundance.
And God promises to provide that water.
I can't wait to see what God will do this year. He will provide water and we will flourish. I don't know how or where the water will come from, but that is not important. What is important is that we wait upon God and His timing for the waters (of blessing) to come. Let us do our part in being faithful to His Word and then He will do His part (in His timing) and bring the blessing that only He can give. That way all glory belongs to Him and we will have the privilege of praising His name.